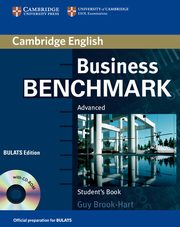 Business Benchmark Advanced Student's Book + CD
Promocja!
Wersja papierowa
Wydawnictwo: Cambridge University Press
ISBN:

978-05-216-7294-8


Format:

22.0x27.0cm


Liczba stron:

184


Oprawa:

Miękka


Wydanie:

3,

2012 r.


Język: angielski

Dostępność:

dostępny



Business Benchmark helps students get ahead with their Business English vocabulary and skills and gives them grammar practice in business contexts. This course book provides advanced level students with business language and vocabulary, and provides training and practice for the BULATS test, using real BULATS test tasks provided by Cambridge ESOL. It includes a CD-ROM with a full BULATS practice test from Cambridge ESOL. Self-study Books, Teacher's Resource Books and Audio CDs (2) are also available.