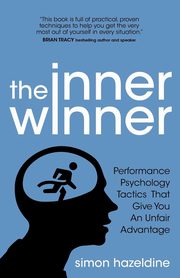 The Inner Winner
Performance Psychology Tactics That Give You an Unfair Advantage
Wersja papierowa
Wydawnictwo: Rethink Press Limited
ISBN:

978-19-05-43062-8


Format:

14.0x21.6cm


Liczba stron:

188


Oprawa:

Miękka


Wydanie:

2012 r.


Język: angielski

Dostępność:

dostępny




The Essential Guide to Achieving Exceptional Levels of Performance in Business, Sport and Life!

The Inner Winner contains proven performance psychology tactics that you can use to enhance your performance in sport, business and life in general!
No matter what level of performance you are currently operating at, these psychological tactics can enhance it further. You can, and will, get a boost from the most powerful performance enhancer of all - your mind.

This book takes powerful performance tactics and makes them easy to understand and use. Inside you will learn how to: Get focused on what you want to achieve in your life; Motivate yourself to succeed; Develop supreme levels of confidence in yourself; Have more commitment and self discipline; Put yourself into any state of mind you desire - within seconds; Dramatically improve your concentration and focus; Cope with stress and tension; Relax easily and quickly; Use self-hypnosis to programme your mind for success.

Ideal for the athlete, martial artist, business person or for anyone who wants to achieve more in their life. The Inner Winner gives you the essential information you need to achieve exceptional levels of performance in every area of your life.