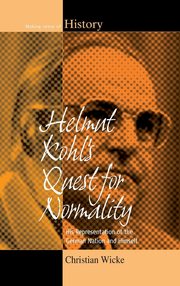 Helmut Kohl's Quest for Normality
His Representation of the German Nation and Himself
Wersja papierowa
Wydawnictwo: Berghahn Books
ISBN:

978-17-8238-573-8


Format:

15.2x22.9cm


Liczba stron:

264


Oprawa:

Twarda


Wydanie:

2015 r.


Język: angielski

Dostępność:

aktualnie niedostępny




"This is an excellent, well written and thoughtful book that...makes a convincing case for the study of Kohl not only as an important political leader in his own right, but also as a case study of the way in which ideological currents inform and influence the development of personal nationalism." · James Kennedy, University of Edinburgh
<P>
"Wicke allows us to see Kohl not only as a tactician and masterful politician but also as a man who had strong political convictions that influenced his political decisions in important ways....What makes this book special is the intriguing and novel theoretical perspective that combines biography with nationalism studies. This has not been done before and should ensure strong interest among scholars." · Stefan Berger, Ruhr University Bochum
<P>
During his political career, Helmut Kohl used his own life story to promote a normalization of German nationalism and to overcome the stigma of the Nazi period. In the context of the cold war and the memory of the fascist past, he was able to exploit the combination of his religious, generational, regional, and educational (he has a PhD in History) experiences by connecting nationalist ideas to particular biographical narratives. Kohl presented himself as the embodiment of "normality": a de-radicalized German nationalism which was intended to eclipse any anti-Western and post-national peculiarities. This book takes a biographical approach to the study of nationalism by examining its manifestation in Helmut Kohl and the way he historicized Germany's past.
<P>
Christian Wicke is a Research Fellow at the Institute for Social Movements at Ruhr-University Bochum and a Visiting Fellow at the Centre for European Studies of the Australian National University.